Upgrade your home decor with our beautiful marble self-adhesive wallpaper peel and stick! Our high-quality wallpaper is designed to effortlessly transform your walls with its stunning marble design and easy peel-and-stick application. Made with durable and easy-to-clean materials, our self-adhesive wallpaper is the perfect solution for busy households looking to elevate their interior design without the hassle of traditional wallpaper installation. Discover the beauty and convenience of our marble self-adhesive wallpaper peel and stick and add a touch of elegance to your home today! Shop now and experience the difference.
Feature: 

Mildew Resistant,Formaldehyde-free,Environment Friendly,Extra Thick,Self-adhesive,Water Resistant

Function: 

waterproof,Moisture-Proof,Mould-Proof,Smoke-Proof,Soundproof,Sound-Absorbing,Heat Insulation,Anti-static

Vinyl Wallpaper Type: 

Paper Back Vinyl Wallpapers

Type: 

Vinyl Wallpapers

Surface Treatment: 

PRINTED

Pattern: 

Marble

Use: 

Living Room,Bedding Room,Study,Kitchen,Kids' Room,Wedding House,Elders' Room

Style: 

Classic

Usage: 

Administration,Commerce,entertainment,Household

Material: 

PVC

Charge Unit: 

Usd/Roll

Origin: 

Mainland China

CN: 

Shanghai

Certification: 

CE,NONE

Feature: 

Removable, Oil-proof

style: 

marble wallpaper

Feature 1: 

Thick marble wallpaper

Feature 2: 

Vinyl self adhesive Marble Wallpaper

Color: 

Same as picture display

Width: 

40cm = 15.75 inches = 1.312 feet

Feature 3: 

Waterproof, Oil-proof, Self-adhesive, Removable

color: 

White, black, red, yellow, blue, green, brown

Material: 

PVC vinyl wallpaper

adhesive for marble: 

black marble wallpaper

black marble adhesive roll: 

washable kitchen sticker

use: 

Furniture renovation, desk, refrigerator, glass surface, plastic surfa

black bathroom record: 

marble waterproof sticker

washable kitchen sticker wallpaper: 

marbled wallpaper

transparent adhesive wallpaper: 

marble waterproof self-adhesive wallpaper


Function; Self-adhesive, waterproof, about thicker-0.2mm, Suitable for use in kitchens, cabinets, tables, doors, cabinets, etc., heat resistant

Note!
scope of use
Furniture renovation, desk, refrigerator, glass surface, plastic surface, painting surface, door
Cabinets, cabinets, computer surfaces, walls, car smooth surfaces, the surface must be smooth and dry, thank you


Important things! see clearly

Please buy enough quantity at a time to avoid the problem of wallpaper color difference. Separate purchases are different production batches. Please thanks

Dear friends
Important problems, note:

Our product size is very long, transportation is the biggest problem
1—We only have ordinary Chinese postal packets that can be transported cheaply, so the price is cheap, but the small packet delivery takes a long time, not a specific time, this jiffystock platform is only a delivery time. forecast, we promise 25 for the time limit of 75 days, more than 75 days, we promise a refund, and the buyer will not lose money.
(Some buyers may receive the product within 15 days, some buyers may receive the product within 30 days, and some buyers have to wait more than 60 days, which is an uncertain time.) Our sellers are more anxious than buyers, so we hope that buyers will receive the goods as soon as possible. They will give us a good feedback, right?


2–All sellers ship the goods via third party shipping company. Our sellers are also buyers of the transport company. We cannot control the speed of the shipping company, so we promise to exceed the 75-day guaranteed time limit and we will refund you. Or you can contact us to resend, it's very simple


If you buy 2 pieces of the same color, we will roll them together, that is, the length is connected with each other. For example, if you buy 2 pieces of 2 meters in length, we will send you a total of 4 meters in length.
Lugar de uso; Muebles, armarios, superficies de mesas
Todos incluimos tarifas de transporte, pero no incluye áreas remotas ni países que necesitan pagar aranceles aduaneros. Los impuestos deben ser asumidos por los propios compradores. Gracias.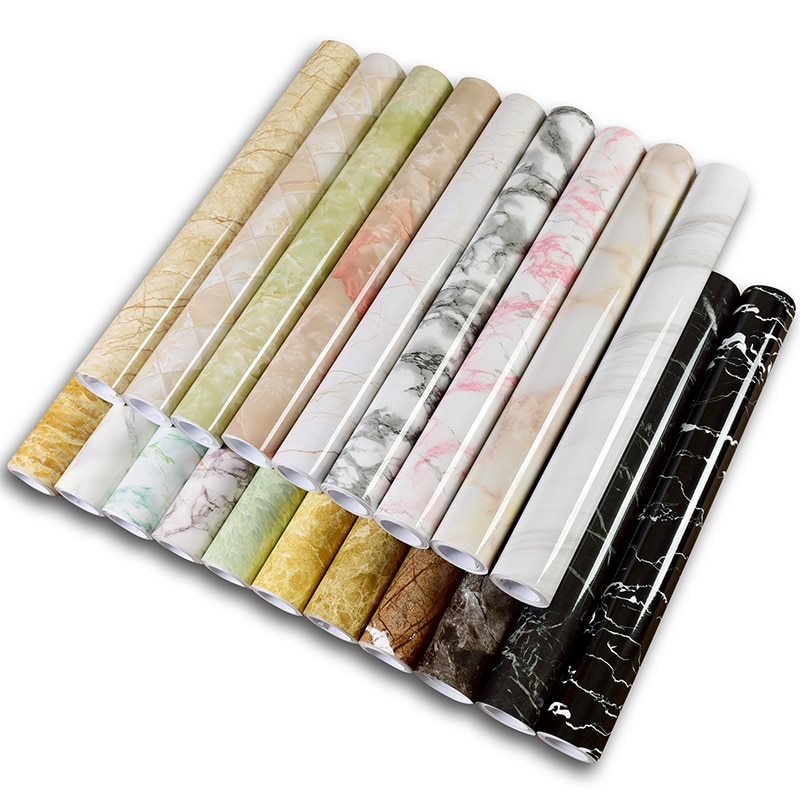 Specific operation
1/Measure and cut
Get rid of foreign substances or dust fome the surface where thae peel and stick wallpaper will be attached adjust paper to the surface and cut this 10-15mm larger than the actual size of the surface

2/Peel and stick
To separate the peel and stick wallpaper attached cellotape on both edges of the sheet and pull the tape on both directions

3/Scratch
To attach the peel and stick wallpaper to the surface, press this product beginning from the center part towards the outer part while eliminating the remaining backing paper little by little

4/Smooth
If there exist air bubbles after attaching the peel and stick wallpaper, get rid of the with use of a needle or the point of the knife(Except Paper Weave Products)
We will regularly produce new, good quality products.
Our peel and stick wallpaper is novel in design and has a variety of styles to choose.
Make your room a beautiful and comfortable change in the easiest way.
Printed with safe and high quality materials.
Not only waterproof, mildew proof, but also removable and repositionable.
Remove it clean and leave no sticky residue.